Pressure is rising for Hollywood to disqualify a controversial movie about Palestinian jihadists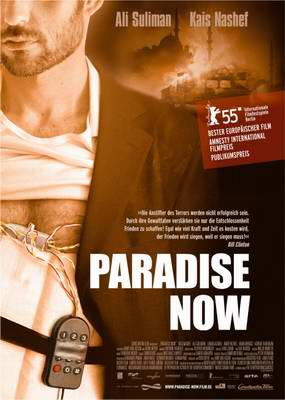 The preview posters for Paradise Now declare, 'From the most unexpected place, a bold new call for peace'. The trailer suggested the same thing: a Palestinian suicide bomber deciding not to go through with his mission.
But by the time the film was nominated for this year's Best Foreign Feature at the Oscars, certain audiences started to feel it was not as balanced as it had appeared in the trailer: the bomber's decision in the film to choose peace is actually short-lived. He goes through with the attack and, as the film's hero, his act is unarguably portrayed as heroic. It is set to give the 78th Academy Awards one of their most controversial years since the Seventies.
At the Laemmle Fairfax cinema in Los Angeles, Sarah Rosen, a self-described left-leaning Jew, exited Friday's 5pm screening shaking her head. 'I appreciated the unique touches, like a suicide bomber being put off his final video by the sight of a cameraman eating a sandwich. But it bothers me that Israel being the evil aggressor is taken as given.'
It is the subject of how to resist Israel - jihadists Said and Khaled say violence is the only way, while Suha, the daughter of a martyr, argues for peaceful protest - that allows for the grey area. In the end violence wins for numerous reasons - most explained by the bomber's back story. But the Hollywood looks of Said, played by Kasi Nashef, who is matinée idol handsome, are also causing discomfort. There is, for many, an uncomfortable implication that his less attractive friend, Khaled, played by Ali Suliman, hasn't the courage to bomb buses because he isn't a leading man. The charismatic directing and acting combine to create a kind of sexy jihad that has US Jewish groups calling for its disqualification....
Suicide bomb film set to shake Oscars